Course details
【Sun - Thu Limited】 Draft beer, festival including about 25 kinds of sake including about 60 kinds Single item Drink All you can special price 1800 yen → 1500 yen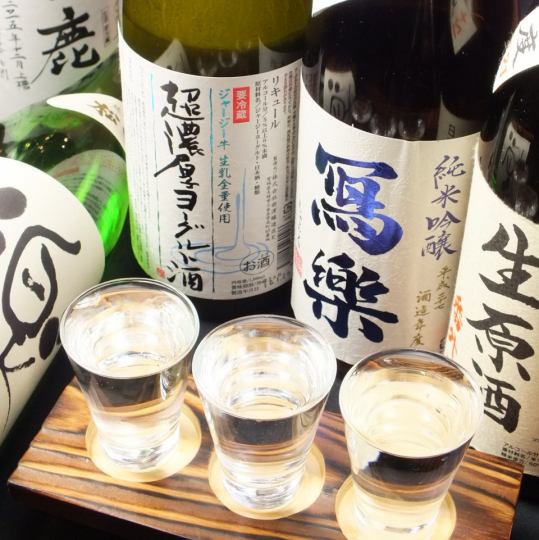 1500yen
Fri, Sat, except the day before the holiday
All-you-can-drink available

It becomes last order 1 hour and 30 minutes system.More than 25 kinds of sake prepared!
Available days for reservation

Monday - Thursday, Sunday, Public Holiday, Holidays
As well as draft beer, as well as shochu, chuhai, cocktail, all you can drink as much as 25 kinds of sake boasted by Shinbashi!
Course menu
■ All-you-can-drink all-you-can-eat drinks of more than 25 Japanese sake recommended by Shinpachi ■
In addition, one and a half hours to two hours until the end of September!
All-you-can-drink menu
·beer
·draft beer
·Highball
High ball, Cork highball
- Zhuhai
Lemon, plane, lime, Calpis
·Sake
· · 【Tohoku】 Mutsu Masayama Super Serial Rice (Aomori) / Bakuren Ginjo (Yamagata) / Sharaku Jun Rice (Fukushima) / Daigo Seigen Shinruna (Fukushima) / Kamikiemoto Junmai Ginjo (Yamagata) 【Kanto 】 Iwao net rice (Gunma) 【Kinki】 Wind forest Junmai Daiginjo (Nara) / Kure spring book brewing (Osaka) / Rakuten Tsuru Genumi Rice (Hyogo) / Okutami Sumijo (Hyogo) 【China】 First generation Yayama Junpei Ginjo (Hiroshima)
·Sake
· 【Tokai】 純 純 米 米 超 辛 (三重) 【Hokuriku】 Bra and Kirashira Jun Rin Ginjo (Fukui) / Kita snow raw sake (Niigata) / Suzukura Jun Rinko Ginjo (Niigata) / Yubi genuine rice unfiltered Ishikawa) / Toshinori Jun rice (Fukui) 【Shikoku】 Chiyo's tortoise Junmai Ginjo (Ehime) / Ryoujin Net Rice Ginbune (Kochi) / Tosa Kinzaki Net Rice (Kochi) / Sanuki Haruhito Book Brewery (Kagawa)
·Sake
· 【Kyushu】 Taimo Jun Rin Ginjo (Kumamoto) / Tenbuki Junpei Ginjo (Saga)
Shochu
- Wheat, potato
·Fruit wine
Plum, peach, citron
·Cocktail
Cassis orange, black currant soda
·wine
·house wine
·Soft drink
- Oolong tea, orange, cola, Calpis Water
2018/09/04 update