Course details
【Female Limited】 Draft beer, Festival including 25 kinds of sake including about 60 kinds Single item Drink All you can special price 1800 yen → 1500 yen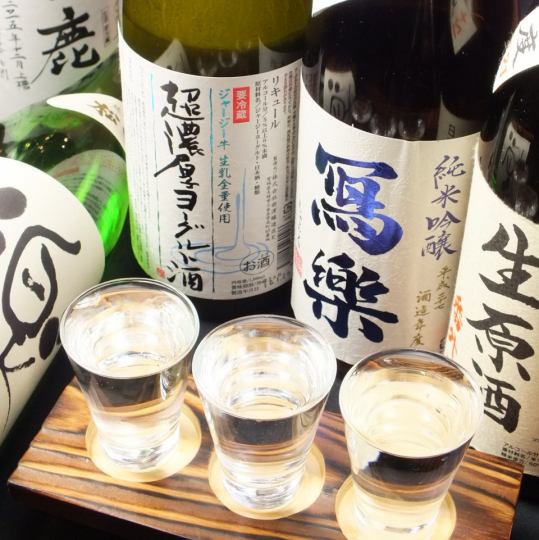 1500yen
Fri and earth are excluded
All-you-can-drink available

It becomes last order 1 hour and 30 minutes system.More than 25 kinds of sake prepared!
As well as draft beer, as well as shochu, chuhai, cocktail, all you can drink as much as 25 kinds of sake boasted by Shinbashi!
Course menu
■ All-you-can-drink all-you-can-eat drinks of more than 25 Japanese sake recommended by Shinpachi ■
We also offer sake for women only!
All-you-can-drink menu
·beer
·draft beer
·Highball
High ball, Cork highball
- Zhuhai
Lemon, plane, lime, Calpis
·Sake
· · · 【Tohoku】 Mutsu Musayu super hot rice (Aomori) / Bakuren ginjyo (Yamagata) / Sharaku jun rice (Fukushima) / 【Kanto】 Iwao Junma (Gunma) / Sagami Nada jun rice (Kanagawa) 【Kinki】 Kosuga cement Rice (Hyogo) / Wind of the Forest Junmai Daiginjo (Nara) / Nanono Junmai (Shiga) / Aka Jun Rin Ginjo (Osaka) 【China】 Toyo Beauty Junmai Ginjo (Yamaguchi) / Omakease NINE Net Rice (Okayama ) / First generation Yayama Jun Rin Ginsei (Hiroshima)
·Sake
· · 【【Hokuriku】 Koshiro Ume America Ginjo (Niigata) / Bra and Kishira Jun Rin Ginjo (Fukui) / Kita snow raw sake (Niigata) 【Chubu】 Yoshikuni Rice (Aichi) / Tomoka Junmai rice wine (Nagano) 【Shikoku】 Miyoshi chrysanthemum filtering raw sake (Tokushima) / Chiyo's tortoise Junmai Ginjo (Ehime) / Kujun Junmai (Kochi) 【Kyushu】 Tenbuki Junpei Ginjo (Saga)
Shochu
- Wheat, potato
·Fruit wine
Plum, peach, citron
·Cocktail
Cassis orange, black currant soda
·wine
·house wine
·Soft drink
- Oolong tea, orange, cola, Calpis Water
2018/05/25 update