Course details
【Sake more than 25 kinds of sake】 Total of 8 items including chicken cards, special baked food and water cooked "Water cooking course" 5000 yen ⇒ 4500 yen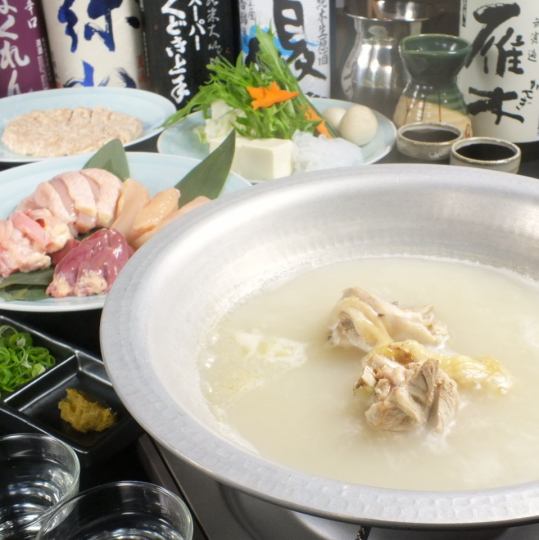 By using a coupon4500 yen
Friday, Saturday and public holiday will be 5000 yen.Cooking only 3500 yen (tax not included)
All-you-can-drink available

It becomes last order 1 hour and 30 minutes system.More than 25 kinds of sake prepared!
Available days for reservation

Monday - Sunday - Public holidays - Holidays
Because it is a delicious chicken, a delicious dashi is served ... It's delicious because it's delicious! A delicious hot pot can be made! Water cooked milky soup made with Awaji chicken's chicken coat for 8 hours.Enjoy rich soup with Japanese sake.
Course menu
■ Arrangement of soup
■ Five kinds of chicken sting
■ Hin Chicken Ponzu
■ Specialty baked baked two kinds
Deep fried chicken wings
■ Water cooking
■ Deep-sea water cooking
■ dessert
※ 25 kinds of Japanese sake
※ It is a two-hour seat system.I will call you out, so thank you for your preparation.
------- ◆ Reason why Ginba Sannomiya store is selected for banquet ◆ -------
[1] morning argument Awaji Awaji chicken chicken ... Ginhachi is, in the refrigerator after the arrival zero degrees set in shops,
Within 11 hours from the strangle After temperature aging we offer to our customers of the original.You can taste the chicken a real sweet, crunchy, texture
【2】 All you can drink more than 25 kinds of sake ... 25 or more kinds of delicious Japanese sake nationwide are always available at all times.All-you-can-drink of course also be included.【3】 Complete private room ... Private room to relax comfortably up to 8 people OK!
【4】 Exquisite water cook ... Because it is a delicious chicken, a delicious dashi is served ... It is a delicious dish so you can make a delicious hot pot.Cooked with white cloudy soup made with Awaji chicken chicken straw for 8 hours.Enjoy rich soup
All-you-can-drink menu
·beer
·draft beer
·Highball
High ball, Cork highball
- Zhuhai
Lemon, plane, lime, Calpis
·Sake
· · 【Tohoku】 Mutsu Masayama Super Serial Rice (Aomori) / Bakuren Ginjo (Yamagata) / Sharaku Jun Rice (Fukushima) / Daigo Seigen Shinruna (Fukushima) / Kamikiemoto Junmai Ginjo (Yamagata) 【Kanto 】 Iwao net rice (Gunma) 【Kinki】 Wind forest Junmai Daiginjo (Nara) / Kure spring book brewing (Osaka) / Rakuten Tsuru Genumi Rice (Hyogo) / Okutami Sumijo (Hyogo) 【China】 First generation Yayama Junpei Ginjo (Hiroshima)
·Sake
· 【Tokai】 純 純 米 米 超 辛 (三重) 【Hokuriku】 Bra and Kirashira Jun Rin Ginjo (Fukui) / Kita snow raw sake (Niigata) / Suzukura Jun Rinko Ginjo (Niigata) / Yubi genuine rice unfiltered Ishikawa) / Toshinori Jun rice (Fukui) 【Shikoku】 Chiyo's tortoise Junmai Ginjo (Ehime) / Ryoujin Net Rice Ginbune (Kochi) / Tosa Kinzaki Net Rice (Kochi) / Sanuki Haruhito Book Brewery (Kagawa)
·Sake
· 【Kyushu】 Taimo Jun Rin Ginjo (Kumamoto) / Tenbuki Junpei Ginjo (Saga)
Shochu
- Wheat, potato
·Fruit wine
Plum, peach, citron
·Cocktail
Cassis orange, black currant soda
·wine
·house wine
·Soft drink
- Oolong tea, orange, cola, Calpis Water
2018/10/03 update